The kitchen trends of 2018 and 2019 include seamless floors and countertops, a new color palette, and minimalist touches. To create these bold designs epoxy will be the go to for a seamless finish to the floor, backsplash, countertop, and walls in next year's kitchens. So what are the expected design changes for next year? Let's explore what we can expect to see in the 2018 kitchen design.
2018 Color Palette Plum, Navy Blues, and Saffron
Photo by J NORD WOLFE General Contracting Inc. - Discover kitchen design ideas
The 2018 kitchen's color palate will be bold plums, navy blues, and saffron yellows mingled with natural neutral tones like charcoal, forest green, and oak. This trendy color palate may make use of epoxy to create stunning focal points in the kitchen, like a navy blue floor, or saffron yellow seamless countertops. The possibilities of using these colors are endless for the upcoming year, and we cannot wait to see how they are incorporated.
Photo by Studio Wills + Architects - Search kitchen pictures
Many home designs are not expected to embrace these bold color choices. Instead, they may use accents of blue and saffron and rely more heavily on the natural neutral tones. The rise in usage of gold and copper as accents brightens up the darker color palate of 2018.
Photo by JL Construction - More kitchen photos
Light Stone Countertops & Backsplash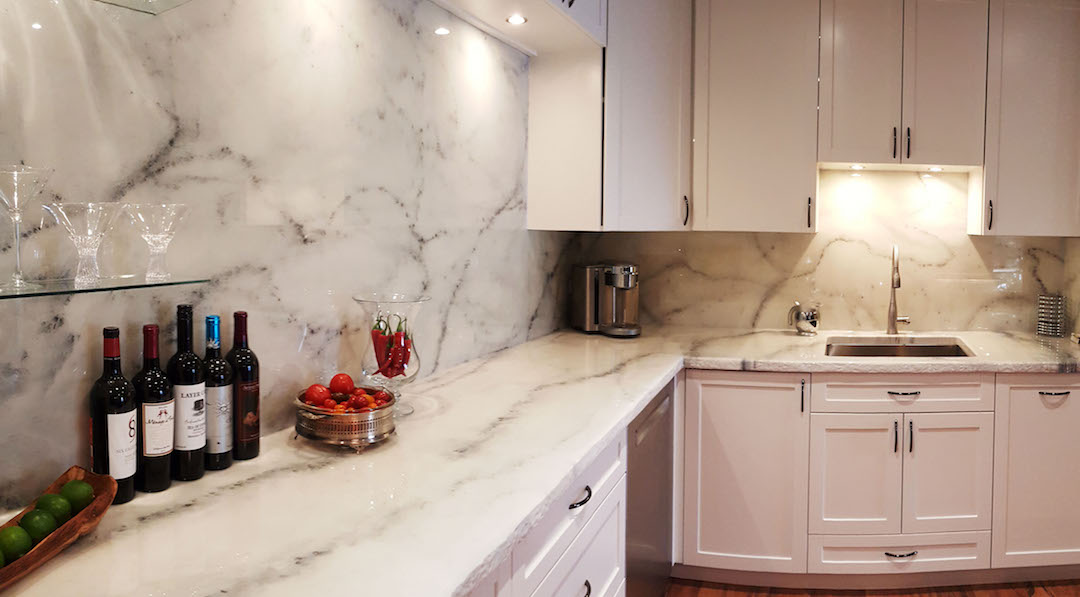 The 2018 countertops are using light colors to balance against darker cabinets and flooring choices. White marble, travertine, and other countertop choices will grow in popularity. Seamless backsplashes that are continuous with the countertop design is one trend we are extremely excited for at Diamond Coat because of the class and attention that it brings to a well designed countertop.
3 Kitchen Design Styles of 2018
Photo by Cornerstone Architects - Search kitchen design ideas
There are three key kitchen designs that are here to stay for the 2018 season, the scandinavian kitchen, craftsman kitchen, and farmhouse kitchen.
Photo by Advance Design Studio, Ltd. - Look for kitchen pictures
Each of these key designs are expected to use the 2018 color palate, there will simply be different stylistic choices such as a white farmhouse sink instead of a sleek stainless steel undermount sink. With each of these designs, it is expected that there will be plenty of wood accents, uncluttered space, and bright open areas, which epoxy can deliver effortlessly.
Photo by Sogno Design Group - Browse kitchen ideas
Epoxy in the 2018 Kitchen
In the kitchen, it will be important to seal in any wooden worktops, and create glossy surfaces to further brighten the space. Epoxy will add the gloss as well as seal porous surfaces throughout the kitchen as a practical and design oriented decision.
Photo by Cathy Lara - Search living room pictures
The floor choices will depend upon which of these three styles are chosen for the kitchen. In a scandinavian kitchen, a seamless floor is a must have. We expect to see plenty of gray, blue, and almond epoxy floors throughout the 2018 scandinavian inspired home. While concrete has initially been the flooring option of choice, the forgiveness and flexibility that an epoxy floor offers within the home is quickly being embraced by this design trend. These seamless floors are slower to be embraced in a craftsman style or a farmhouse style, but they are steadily being introduced as more industrial components are utilized throughout the home.
Will you use epoxy to renovate your home in 2018? Call our team for our durable, seamless, and food safe epoxy installation quote at 970.628.1846.