The Future Home Design Trends of 2018
You can say goodbye to rose gold, chevron print, and subway tile, the 2018 home design trends have moved on from those popular choices! We see lots of brass accents, natural marbles, and artisanal finishes in the near future.
Are you ready for some fresh inspiration? We will start out with the easiest update you can make in your home, new furniture.
Drink Carts

Photo by Sally Wheat Interiors - Look for home bar design inspiration
A drink cart can quickly be added to unused space to add interest and functionality. When choosing a drink cart for your space, keep in mind that brass is expected to outshine copper for 2018.
Rounded Furniture
Photo by Bankston May Associates - Discover living room design inspiration
Rounded couches and lush deep colors are the trend in furniture. If you enjoy bold design choices, velvet is a fabric choice that many are embracing to add a new design element to the room.
For major updates, resurfacing your existing countertops, walls, backsplash and floors to mimic these material choices is crucial for your home.
Marble & Wood
Photo by EC Trethewey Building Contractors, Inc. - Discover kitchen design inspiration
The combination of marble and wood whether it be butcher block side by side with a white marble countertop, or striking white marble countertops with wood floors is a gorgeous update to make in the home.
Black Marble Countertops
Photo by Black Lacquer Design - Look for kitchen pictures
The colors of 2018 include blues, forest greens, and saffron. This darker color palette will be complemented with black or white marble countertops. This stunning and natural countertop can easily be created over your existing countertop, just contact your local Diamond Coat Dealer for a quote.
Brass Accents
Photo by Elizabeth Lawson Design - Search kitchen design ideas
Brass is the new copper for the 2018 home. This accent works well with the dark colors that are expected to be used.
For the walls of the home, the goal is to embrace darker colors and designs to create bold new appearances.
Geometric Wall Paper
Photo by Lindye Galloway Interiors - More entryway photos
This geometric wall paper adds interest to the room and complements the brass and blue tones that are used beautifully. When choosing a wall paper, going bold with pattern and color can pay off in the long run.
Stone & Epoxy Walls
Photo by Strianese + Pew - More bathroom ideas
While stone slabs are a stunning addition to any home, the cost and installation can be difficult for many homeowners. This above shower wall, or even an agate pattern, can be recreated with Diamond Coat epoxy. This durable, and waterproof wall solution is easy to install, reduces grout lines, and adds interest to the home.
Darker Tones
Photo by Erica Islas / EMI Interior Design, Inc. - Look for kitchen design inspiration
When choosing paint colors, search for navy blues, forest greens, and saffron colors. These rich tones are expected to truly set apart the design trends of tomorrow.
Throughout the home, customization of the finishes is becoming extremely important. For an artisanal finish, here are a few ways that you can enhance your chosen design.
Artisanal Sinks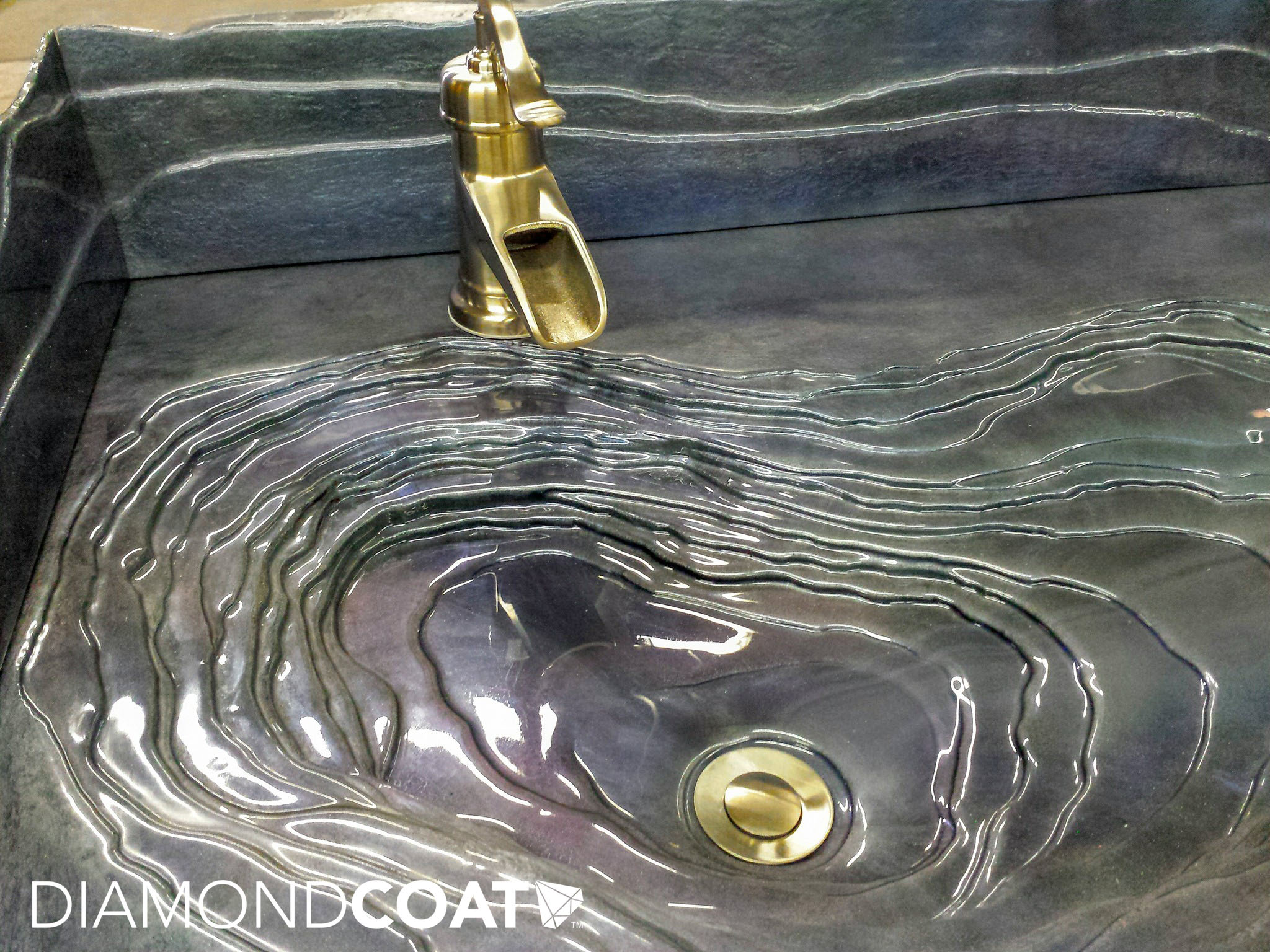 Twin Cities Diamond Coat created this color changing sink for a customer. This customized piece is only a small example of what he can produce for a customer. Replacing sinks, or other fixtures is a great way to update your home.
Light Fixtures
Photo by Dillon Kyle Architects (DKA) - Browse kitchen photos
This custom light fixture adds interest to an otherwise simple room. The contrast of the turquoise against the white walls adds architectural interest.
What design trends are you looking forward to in 2018? Email us at info@diamondcoatepoxy.com and tell us all about your projects!