How to Remodel Your Kitchen in the Farmhouse Style
According to the design trends for 2018-2019, the farmhouse kitchen is here to stay! To update to a farmhouse kitchen, you will have to do more than add the iconic farmhouse sink (although that is a great place to start). Here are the 2018-2019 farmhouse remodel ideas that you can use to update your kitchen.
Natural Wood Finishes
Photo by Peter Zimmerman Architects - Discover kitchen design inspiration
There is no better material than natural wood to use when creating the farmhouse style. The use of wood in a farmhouse kitchen includes floors, statement walls, cabinets, and countertop. Be careful of using wood throughout the entire kitchen, unless your goal is a wood cabin appearance! These wood additions are what sets apart many farmhouse kitchens.
White Marble & Sealed Wood Countertops
Photo by Pecota White Building & Design - Browse kitchen photos
When considering a wooden countertop, it is important to consider how you will protect the wood. If you want a heat and scratch resistant countertop, you will want to seal the wood with epoxy. Our installers can seal your wood countertop using our heat resistant, UV resistant, and scratch resistant epoxy.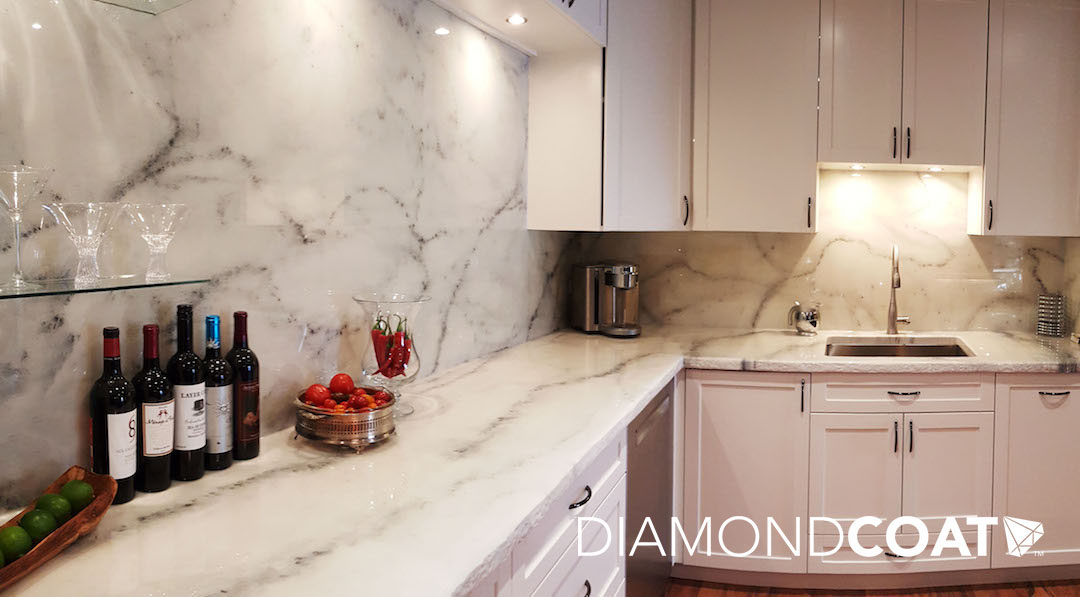 If you are looking for a white marble facelift for your countertops, we also offer countertop resurfacing with our premium epoxy. The white marble is the countertop of choice for many farmhouse kitchens, and we can install one in your kitchen in no time.
Blue & Yellow Accents
Photo by LuxeMark Company - Search kitchen design ideas
For the 2018-2019 farmhouse kitchen, yellows and blues will be the accent colors of choice. These provincial colors add a French charm to the kitchen. These colors would be a welcome addition in the backsplash, or cabinets.
Photo by Artistic Designs for Living, Tineke Triggs - Discover kitchen design ideas
Stone Backsplash
A seamless backsplash is another farmhouse touch to consider when remodeling your kitchen. A stone backsplash won't have the maintenance of grout lines, they are a durable and easy to clean surface. At Diamond Coat, we can create a custom epoxy backsplash that matches your countertop. With epoxy the color and design options are endless, unlike what you can achieve with stone.
Modern Farmhouse Floors
Photo by Don Harris, Architect - Search kitchen design ideas
Solid surface and epoxy floors are a great way to create a modern flow in your farmhouse kitchen. An epoxy floor has the durability required in a true farmhouse kitchen. Our epoxy flooring is 5 times stronger than concrete and it is also customized to your design preferences. We can create a seamless marble or travertine floor, the possibilities are endless!
These are a few design ideas for your farmhouse remodel, how are you updating your kitchen? Send us an email with photos at info@diamondcoatepoxy.com. We love to see how you are transforming your space!
If you are looking to update your floor, countertops, or walls using epoxy, give us a call at 970.628.1846. We would be happy to help you with your kitchen remodel.